MF Tarif fare collection on-board equipment platform:

MF Tarif offers to transport operators the best "price-performance" ratio for fare collection on-board equipment, high reliability and modularity.
In the 2017 MF Tarif updated all the models of produced validators and on-board computers.
On board computer VAR10
Modern state-of-the-art On-board computer:
- Equipped with Wi-Fi, GPS / GLONASS, GPRS 3G / 4G, Bluetooth modules and has additional ports for connecting peripheral equipment like passenger counting system, the fuel control system, passenger information system, printers etc.
- Number of validators in one vehicle depends on the size of the vehicle (up to 10 validators can be supported)
- SAM -modules interface provides a high level of data transfer protection and easy integration with other transport systems
- Operating Temperature: -20 ° C to +50 ° C.
New generation of stationary (rail-mounted) validators for public transport SBK12:
- State-of-the-art design, large screen, colour display
- Vandal-proof and traumatic-safe
- ISO 14443 A & B contactless card reader (Mifare / Mifare Plus / DesFire / Cipurse)
- Certifications: EMV Level 1 & 2, EMV Contactless
- QR code scanner
- 2 SAM slots
- Up to 10 validators can be installed in the bus/tram
- All validators control with on-board computer VAR10
- All transport and bank cards, as well as mobile payment apps may be checked by the inspector's hand held terminal PC-003 during the same trip
- Operating temperature range: -20 C + 50 C
New feature of SBK 12 validator - on-line recharging of transport cards in the vehicle. The new validator SBK12 allows to recharge transport cards in buses on-line:
1. Top-up the card via the Internet
2. Hold the card against validator in the bus
3. Pay trip fare on board of the bus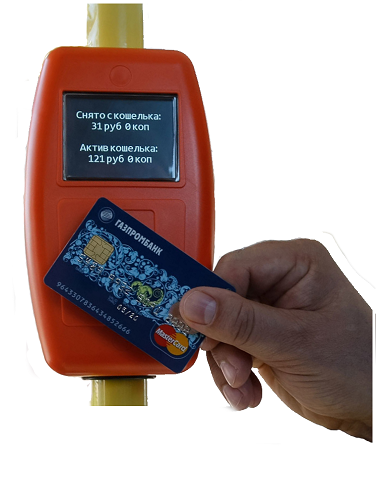 Mobile QR-code tickets:
AFCS MF Tarif provides for the possibility of paying for trips through mobile QR-code tickets:
The validation of QR-code tickets on buses can be performed with a QR code scanner or an NFC reader of SBK-12 validator, which has both possibilities. The SBK-12 validator uses a fast and high-quality QR-code scanner for the quick recognition of tickets.
Mobile QR code tickets in the AFCS MF Tarif are well protected against fraud and from copying from one mobile phone to another. Protection is created when selling a mobile QR code ticket to a passenger. The AFCS of MF Tarif uses a wide range of parameters to confirm the validity of the passenger's ticket.
The QR-code ticket mobile application can be used very flexible for different types of tickets, such as tickets with layovers (transfer tickets), tickets with a limited time period and number of days of action, city pass tickets combined with the possibility of visiting museums and cultural events, or single tickets combined with event tickets. A flexible system of discounts can be created in the system.
QR-code provides very practical solution for the majority of users. All of the technologies in the AFCS MF Tarif platform is architected to support a wide range of possible ticket types - whether it be NFC, contactless credit or debit cards, mobile payment Apps or QR-code tickets.